Happy Halloween!
Our three year old is "so excited!!!" and just can't wait to get out there and trick-or-treat. No amount of rain is going to stop her.  With that in mind, we prepared a list of ways to help keep everyone safe, 7 Safety Tips for a Happy Halloween and Beyond. There are lots of great events coming up this month, so make sure you take the time to get out there and have some fun. We wish you all a safe and very Happy Halloween and we hope to see you out there soon.
If you have an event coming up that you would like us to post in our next news letter please let us know, and please feel free to share this with your friends.
Thank you,
Mike Continillo
myvillaproperties.com
To find more events please like our Facebook page, San Ramon Valley Events.
---
Pick Pomegranates!
Saturday, November 1
– Sunday, November 2
11:00 am to dark
Moggi Ranch
8200 Altamont Pass Road
Livermore, CA
The last weekend to pick your own pomegranates at Moggi Ranch in Livermore. Call (925) 606-0846 or email moggiranch@gmail.com for more information!
---
36th ANNUAL SRVHS SKI BOARD AND BIKE SWAP
Saturday, November 1
10:00 am – 6:00 pm
San Ramon Valley High School
501 Danville Blvd.
Danville, CA
Donate or consign your used but usable ski and snowboard gear, bikes and apparel to help raise money for San Ramon Valley High School.
This event is one of Northern California's largest Ski and Snowboard Swaps with over $1 million in inventory brought by local residents as well as from large retailers offering goods at bargain prices.
Admission $5
(Free to 5 & under with adult)
Cash & Visa/MC Accepted  –  NO CHECKS  –  ALL SALES FINAL
Selected items will be marked down 50% at 4:00 PM on Saturday
---
Daylight Savings Time Ends
Sunday, November 2
Set your clock back 1 hour and fall back to sleep.
---
City Read Event – Author Christina Baker Kline
Wednesday, November 5
7:00 pm
DV Performing Arts Center
10550 Albion Rd
San Ramon, CA
Christina Baker Kline, author of the Orphan Train will be presenting and signing at this free event.
For more information, please visit www.ccclib.org
---
Goodguys 25th Autumn Get-Together
Saturday, November 8 – Sunday, November 9
8:00 am – 4:00 pm
The Fairgrounds
4501 Pleasanton Avenue
Pleasanton, CA
Purchase Tickets Here.
Admission: $18.00
Parking – $8.00 fee charged by Fairgrounds
The final Goodguys Get-Together of the year offers West Coast rodders one last chance to show off their pride & joy! The festive weekend includes a giant show & shine with tricked out and customized American powered cars and trucks of all years, makes & models plus a special truck exhibit featuring big trucks, little trucks, trick trucks, semi-trucks, monster trucks and wild show trucks!  And don't miss the Pinstriper's Brush Bash and other specialty indoor exhibits! Plus, you'll see over 2,500 hot rods, customs, classics, muscle cars and trucks, a giant Swap Meet & AutoTrader Classics Cars 4 Sale Corral, vendor exhibits, the Goodguys AutoCross racing competition, a model car show, FREE kids entertainment and celebrating Veteran's all weekend long!
Visit good-guys.com for complete event details!
---
Jazz at the Library – Wayne Wallace Latin Jazz Quintet
Saturday, November 8
8:00 pm
San Ramon Library
100 Montgomery Street
San Ramon, CA
Jazz trombonist and 5X Grammy Award nominee Wayne Wallace returns to present a thrilling and popular evening of Latin and Caribbean jazz.
---
The Squeeze on Citrus–Caring for Citrus in the Garden
Thursday, November 6
6:30 pm
San Ramon Library
100 Montgomery Street
San Ramon, CA
Contra Costa Master Gardeners Molly Wendt and Sierra Higgins present the basics of caring for citrus, whether existing trees or new.
Learn how to select and buy healthy plants and the best methods of care, including pruning and protecting from environmental elements, pests and diseases.
---
Preschool Performance Series-Cowgirl Tricks with Karen Quest
Friday Nov 7
Village Theatre
233 Front Street
Danville, CA
Preschool Performance Series-Cowgirl Tricks with Karen Quest – Hold your horses kids! Karen Quest is riding into Preschool Performance Series! Karen is a unique fun-filled Vaudeville-style Western Comedy Act complete with Trick Roping, Whip Cracking, Music and Lots of Surprises! Karen engages audiences with her special brand of Western humor. At The Wild West Arts Convention in Las Vegas, Karen won the Comedy Award for "The All Cowbell Orchestra" routine portion of her show. Other awards include winning at the 2001 Wild West Arts International Convention Awards the Women's Big Loop Champion and also the Most Unusual Trick Award! Don't miss this one-of-a-kind performer!
---
Fun on the Farm: Walnuts and Woodworking
Saturday, November 8
10:00 am
Forest Homes Park
19953 San Ramon Valley Blvd
San Ramon, CA
After harvest, the hull (the green layer that covers the shell) of the walnut needs to be removed. See our antique huller in action doing this job, and learn more about this nut that was an important crop in the San Ramon Valley. Next, take a look at how wood is worked to make everything from toys to buildings. Try your hand at drilling with a hand-powered drill, and make a wooden top to take home.
---
Starship Featuring Mickey Thomas
Saturday, November 8
8:00 pm
DV Performing Arts Center
10550 Albion Rd
San Ramon, CA
Mickey Thomas is the owner of the soaring voice that propelled Starship through the decades of the 80's and 90's. With his soulful and compelling vocals, Mickey has established himself as one of rock music's most recognizable stars. In 1979, Mickey joined the Jefferson Starship as lead vocalist, after the departure of Grace Slick and Marty Balin. Backed by the power of Mickey's vocals, Jefferson Starship immediately scored a #1 hit with "Jane". With this new sound and powerful new vocals, the group was renamed Starship and continued to record an amazing string of hits including "No Way Out", "We Built This City", "Sara", and an Oscar Nomination for the #1 hit "Nothing Gonna Stop Us Now" from the movie "Mannequin". Other top hits included "Find Your Way Back", "Stranger", "Laying It On The Line", and "It's Not Over Till It's Over" which became Major League Baseball's theme in 1987.
Single Ticket Price $50
Season Ticket Price $45
Limited VIP seating available for this show. Contact the Box Office for more information.
---
Bishop Ranch Food Drive
November 10 – 21
4:00 pm — 7:00 pm
Look for a red barrel in your building
Brighten the holidays for families in need. Each year, the Contra Costa and Solano County Food Bank serve over 8 million pounds of food, feeding more than 188,000 people who turn to the Food Bank and its partner agencies each month —including children living in low-income families and seniors who are not able to afford to buy food. The number has increased 26% in the past two years, so your help is needed more than ever.
To make your donation, look for the red barrels that will be located in all building lobbies and courtyards—any donation, especially protein-rich canned food, can help tremendously (please, avoid glass containers). Barrels will be emptied nightly.
---
Casino Night
Friday, November 14
7:00 pm – 11:00 pm
Crow Canyon Country Club
711 Silver Lake Drive
Danville, CA
Fees/Admission: $50
The San Ramon Soccer Club will be holding it's first Casino Night on Friday, November 14, 2014, from 7 to 11pm. All the profits from the evening will benefit the youth of San Ramon and surrounding areas by allowing us to keep our registration low and offer financial aid. The casino night will offer a variety of casino games including black jack, craps and roulette. There will also be a silent auction, appetizers, music and a no-host bar. General Admission is $50 and includes a drink ticket, appetizers and funny money, The event is open to all members of the community, however guests must be at least 21 years or older to attend.
To purchase tickets please go to https://sanramonsoccercasinonight.eventbrite.com SRS is also accepting sponsorships for the casino night, which include table sponsorship and donations for the silent auction. Sponsorship packages are available. For more information please contact Anne Reed at marketing@sanramonsoccer.org San Ramon Soccer (SRS) is a non-profit organization dedicated to benefiting the youth of our community Founded in 1973, SRS has a long and rich tradition of providing San Ramon Valley youth with opportunities to reach their full potential both on the San Ramon Valley has continued to grow over these past four decades, so too has SRS in its commitment to honor our core values of facilitating both player and human development through the sport of soccer.
---
International Games Day @ the Dublin Library
Saturday, November 15
11:00 am - 1:00 pm
Dublin Public Library
200 Civic Plaza
Dublin, CA
Families are invited to International Games Day at the Dublin Library. No registration is required, just drop in and play a few games. Board games and card games will be provided and teen volunteers will be on hand to teach you a new game or play as an additional player.
---
Veterans Day Annual 5K/10K Run
Saturday, November 15
9:00 am - 12:00 pm
Camp Parks
620 6th Street
Dublin, CA
Camp Parks presents the Veterans Day Annual 5K/10K Run on Saturday, November 15, 2014 at Camp Parks in Dublin. The 5K and 10K Runs begin at 9:00 AM, and the Kids 1K Run begins at 10:15 AM.
9:00 AM – 5K Run & Walk 9:00 AM – 10K Run 10:15 AM – 1K Kids Run
Cost:
5K Run & Walk: $30
10K Run: $40
1K Kids Fun Run: $20
For more information click here.
---
Holiday Craft Boutique
Saturday, November 15
10:00 am - 4:00 pm
Dublin Senior Center
7600 Amador Valley Blvd.
Dublin, CA
Each year this event gets bigger and better, with new crafters displaying their original handmade arts and crafts. Visit the Senior Center for a day of holiday shopping. You'll find a wonderful assortment of unique items for gift-giving or for yourself. Entrance is FREE.
---
DCMT: Wizard of Oz
Friday, November 21
– Saturday, November 29
Village Theatre
233 Front Street
Danville, CA
The most beloved tale of all time comes to life on the stage. Dorothy and her three friends trot delightfully and tunefully down that fabled yellow brick road in The Wizard of Oz. After a tornado whisks her away to the magical land of OZ, young Dorothy Gale teams up with a Scarecrow, a Tin Woodsman and a Cowardly Lion to find the mighty Wizard of Oz who can send her home. Along the way, they must avoid the clutches of the Wicked Witch of the West, who is trying to steal the mysterious magic slippers that once belonged to her evil sister but are now on Dorothy's feet. Dorothy eventually learns just how magical friendship can be and how wonderful it can feel to go home again.
For more information click here.
---
Jazz at the Library – Taylor Eigsti, Solo Piano
Saturday, November 22
8:00 pm
San Ramon Library
100 Montgomery Street
San Ramon, CA
Jazz pianist, composer and 2X Grammy Award nominee Taylor Eigsti brings his intelligence, emotional depth, and joyful confidence to his engaging performance.
*This event requires tickets. For more information and to purchase tickets, click here.
---
Lady K & The Kings of Swing
Saturday, November 22
8:00 pm
DV Performing Arts Center
10550 Albion Rd
San Ramon, CA
SING SING SWING! An Evening of Jazz, featuring Lady K and the Kings of Swing, with jazz vocalist Carla Helmbrecht. The band is a 17-piece Frank-Sinatra-style big band that lovingly winks back in time recreating the sounds of Duke Ellington, Cole Porter, Count Basie, Gershwin, Ella Fitzgerald, Billie Holiday, and beyond.  Featuring Grammy-Award nominee singer-songwriter Carla Helmbrecht.  With class and sophistication, Carla exudes warmth and brings new life, poetry and love to the timeless songs of the Great American Songbook.
Tickets per show: $20 Adults/$8 Youth
---
Night at the Improv
Saturday, November 22
8:00 pm
Front Row Theater
17011 Bollinger Canyon Rd
San Ramon, CA
Ages 18+ Tickets: $10
Join San Ramon Improv U for an interactive evening of improvisational comedy. The show is created on the spot with the help of audience participation and suggestions. Not suitable for children under the age of 18.
---
Frozen Sing-Along
November 23
1:00 pm
4:00 pm
Village Theater
233 Front Street
Danville, CA
Dress up in your finest Disney FROZEN attire, and join us to sing along to the movie on the big screen!
Fearless optimist Anna sets off on an epic journey-teaming up with rugged mountain man Kristoff and his loyal reindeer Sven-to find her sister Elsa, whose icy powers have trapped the kingdom of Arendelle in eternal winter. Encountering Everest-like conditions, mystical trolls and a hilarious snowman named Olaf, Anna and Kristoff battle the elements in a race to save the kingdom.
For more information click here.
---
Lighting of the Old Oak Tree
Friday, November 28
5:15 pm – 6:30 pm
Downtown Danville
Danville, CA
Downtown Danville comes alive as we celebrate the family tradition of "Lighting of the Old Oak Tree" on Diablo Boulevard. Father Christmas and the Snow Angel welcome children of ALL ages. After the tree if lit, Father Christmas and the Snow Angel lead the crowd through downtown where the shop owners serve cookies and hot beverages. A MUST for all families!
---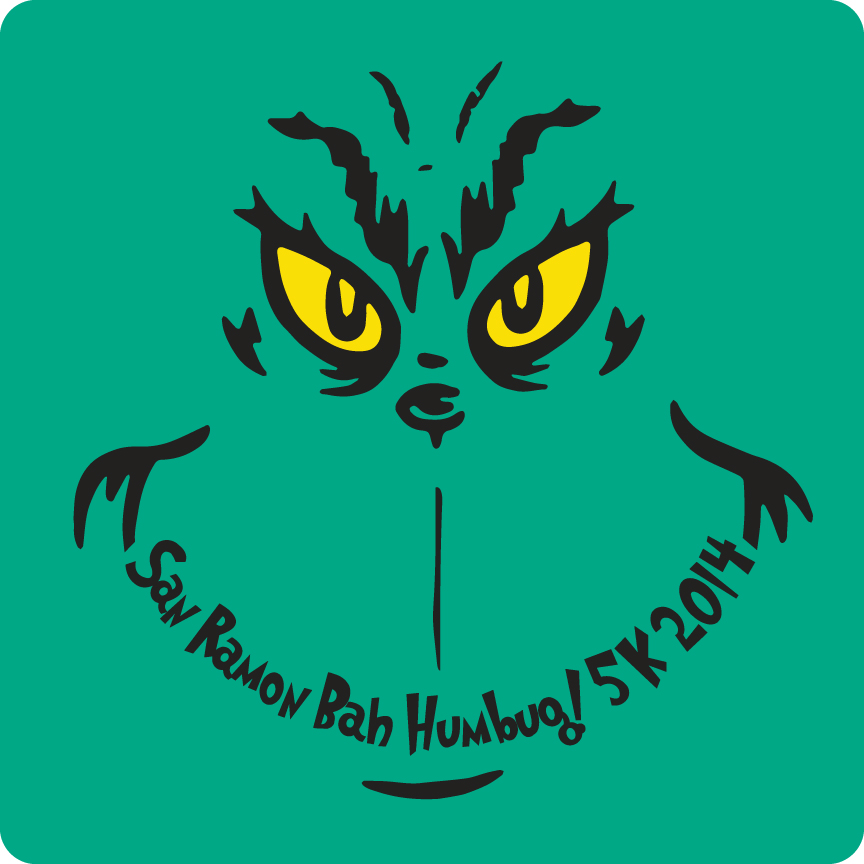 San Ramon Bah Humbug 5k Run/Walk
Saturday, December 6
9:00 am
San Ramon Community Center at Central Park
12501 Alcosta Blvd.
San Ramon, CA
Start the holiday season off  with a healthy fun run or walk through San Ramon. Participants will receive a holiday long sleeved t-shirt and back by popular demand the return of the famous Bah Humbug Ornament! This year's Bah Humbug will be a chip timed race.
Costume Contest: Make sure to come dressed in costume and in the spirit of the run. Costume awards will be given for most Grinch-Like, Best Holiday Spirit, and Best Group Theme.
Spread Holiday Cheer: Runners are requested to bring a can of food to be donated to the Contra Costa County Food Bank to assist those in need during the holidays. Canned food donations will be collected at the registration table.
Awards: Medals are given to the first three finishers in each age division.
Registration: $35 for online and postmarked registration by Saturday November 29th. Registration fees increase to $40 starting November 30th through race day. Pre-registration family rate for 3 or more is $30 per person. Must be immediate family only, and all entry forms must be submitted at the same time. Race day registration tables open 7:30am to 8:50am.
Registration details will be available online at www.active.com search Bah Humbug or on the City of San Ramon website by Saturday November 29. Late or incomplete entries will not be accepted.