Hello Everyone,
This past weekend my girls and I went up to Las Trampas for a walk. It had been many years since I had been up there, so it was like visiting for the first time. We ended up spending a couple of hours there and had a lot of fun. We walked a couple different paths, stopped to blow bubbles  (at 3 year old Sophia's request). We had an impromptu picnic off the side of the trail, and made a decent effort to get to the top of the Bollinger Creek Loop Trail which climbs about 2000 feet. Not the easiest task when you are pushing a double stroller, but the views are amazing and definitely worth the effort. In the end the kids had a blast, I got a decent amount of exercise, and was able to spend a couple of priceless hours with my girls.
There are lots of wonderful planned events that are happening in our area, and we do our best to bring as many of them to you as we can in our newsletter; but it's important to remember there are also lots of fun and exciting things to do that don't require a planned event. We have many wonderful parks and trails just waiting to be explored. If you would like more information check out our recent Blog post:Discover San Ramon's Hidden Trails.
As always we hope that you get out there and find something fun to do this month. Thank you again for your continued support. If you have an event coming up that you would like to share please let us know.
Thank you,
Mike Continillo
myvillaproperties.com
************************************************
Featured Event: 2014 Gala for Giving
Benefitting the Down Syndrome Connection of the Bay Area
Saturday, May 3
5:30 PM – 11:00 PM
Diablo Country Club
1700 Clubhouse Road
Diablo, CA
Attend the 2014 Gala for Giving benefitting the Down Syndrome Connection of the Bay area. The Down Syndrome Connection of the Bay Area seeks to promote the unique contributions of children and adults with Down syndrome through direct services to them and their families. They also serve to educate the general public by fostering inclusive and integrated involvement with the Down syndrome community and society at large.
For ticket information click here: https://dsconnection.3nerds.com/2014-gala.php
---
First Friday Foreign Films – Central Station

Friday, May 2
6:30pm
Front Row Theater
17011 Bollinger Canyon Rd
San Ramon CA
Enjoy exotic locations, interesting thought provoking themes and beautiful cinematography on Fridays at the Front Row Theater. Join us for an international film series on the First Friday of the month. Each movie will be introduced by a local film expert or local personality. Refreshments included in the price of admission. Some of the movies have adult themes. Age 18 and up unless accompanied by a parent or guardian.
Tickets: $9 and can be purchased online, at the box office or at the door.
---
Life in The Alamo-Danville Garden Tour
Saturday, May 3
11:00 AM
Address provided to registered attendees only
Five glorious gardens in the Danville-Alamo Area (first home on the tour will be posted on the website below)
Local Landscape Architect, John Montgomery, is putting on a garden tour to benefit local non profits on Saturday, May 3 from 11 am to 4 pm.  Lazarex Cancer Foundation is one of the beneficiaries this year.  To purchase tickets to the garden tour and find out more, go to https://lazarex.ejoinme.org/garden.  The tickets are $30 each and 100% of tickets purchased through the Lazarex Greater Giving website will go to support end stage cancer patients and the cancer community by providing assistance with costs for clinical trial participation, navigation through clinical trial options, community outreach and education.  We hope to see you there!
---
Live Oak Elementary International Festival
Saturday, May 3
2:30 PM
Live Oak Elementary
5151 Sherwood Way
San Ramon, CA
Join Live Oak Elementary PTA in a celebration of our diverse cultures!  We will have culture booths representing many of our cultures, food samples, activities, multicultural performances, food trucks/booths and more!  This event is free and open to the public!  For more information visit http://www.liveoakpta.net/international-festival
---
Monkey See Monkey Do… Family Friendly Improv!

Sunday, May 4
2:00 PM
Front Row Theater
Located in Dougherty Station Community Center
17011 Bollinger Canyon Rd
San Ramon, CA
This one hour short form improv show is designed especially for kids! Our family friendly show is completely made up on the spot based on audience suggestions. Best of all, kids will have opportunities to participate and a chance to be on stage and take part in the fun. Monkey See Monkey Do Improv is appropriate for ALL ages, and is sure to be enjoyed by everyone in your family!
Tickets: $10 and can be purchased online or at the door.
---
San Ramon Symphonic Band: The Magical Music of Disney

Sunday, May 4
2:00 PM
DV Performing Arts Ctr
10550 Albion Rd
San Ramon, CA
All Ages Adults $6/Children under 12 Free
Music will abound at the San Ramon Symphonic Band Concerts. The band is comprised of 55 talented musicians led by conductor Larry Colon. Bring the family for a fun filled evening of music. Adults $6 kids are FREE.
---
Devil Mountain Run

Sunday, May 4
8:00 AM
Railroad Avenue
Danville, CA
The East Bay's oldest foot race takes to the streets of Danville on Sunday, May 4 at 8:00 a.m. Lace up your running shoes and join in the fun as hundreds of locals gather to participate in this tradition. The annual run, powered by Herrmann & Cooke, includes a 5K, 10K, a free Kids Fun Run and Expo. Register online.
---
Livermore Wine Festival

Saturday, May 3
10:00 AM – 6:00 PM
Sunday, May 4
10:00 AM – 5:00 PM
Historic Downtown Livermore
First St. from P Street to Maple Street
Second St. from N Street to K Street
2014 Livermore Wine Country Festival is the largest celebration of wine, craft brews, arts, crafts, shopping, dining, entertainment and hometown charm in the East Bay!
Over 150,000 attend each year to explore over 300 vendor booths and to shop at Downtown's incredible specialty boutiques. Enjoy our collection of restaurants that are globally inspired and locally enhanced!
---
Cinco de Mayo in Alamo Plaza

---
Wine and Chocolate Stroll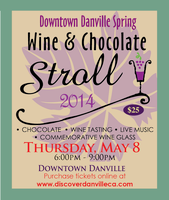 Thursday, May 8
6:00 PM – 9:00 PM
Historic Downtown Danville
Hartz Avenue
Danville, CA
Danville Chocolates, Sweet Street and other local chocolate shops will showcase their decadent creations while Livermore Valley wineries pour their best vintages—all against the backdrop of music and merriment.
Your $25 ticket includes a commemorative glass, wine tasting, food bites, and entertainment in Downtown Danville. Tickets sell out quickly so get yours soon.
To purchase tickets click here.
---
Mother's Day Weekend
Friday, May 9 – Sunday, May 11
Hike for Hope

Saturday, May 10
8:30 AM – Noon
Del Valle Regional Park
7000 Del Valle Road
Livermore, CA
At Hope Hospice, we believe every end-of-life experience will be patient-centered, based on individual choice and lightened by hope, comfort and dignity. Your donation or participation in "The Hike for Hope" On-Line Auction supports this vision. Most importantly, your financial support enables East Bay residents to receive personalized, high quality care regardless of their insurance status or nation of origin. By helping in this way, area residents will live every day to its fullest in comfort and dignity.
Registration Fee – $30 through April 24; $40 on or after April 25
Trail Options – Easy 2.6 miles or moderate 4.4 miles
Parking – $6 per vehicle – participants are encouraged to carpool.
---
Fun on the Farm – Thinking of Mom

Saturday, May 10
10:00 AM – 2:00 PM
Forest Home Farms
19953 San Ramon Valley Blvd
San Ramon, CA
Get ready to celebrate Mother's Day the way the woman behind the holiday intended. Keep it simple and from the heart. Pen a letter to mom telling her why she is special, so you can deliver it to her on her day with a white carnation. You can also take the "Are you my mother?" quiz to see if you can match pictures of baby animals with the right mother.
---
Ladybug Girl & Bumblebee Boy, the Musical

Saturday, May 10
2:00 PM
Front Row Theater
17011 Bollinger Canyon Rd
San Ramon, CA
Lulu, Sam and their friends explore the power of imagination. It is hard to navigate the perils of the playground, but the Bug Squad is up for the challenge! This delightful musical will buzz into your hearts!
Additional dates: May 10, 11, 17, and 18.
Times vary:  11am, 2pm & 4:30 pm.
Tickets are $16 child, $20 adults,  $18 seniors.
Tickets can be purchased by calling 925-973-3343 or going to www.sanramonperformingarts.com
---
Tea Enthusiasts Unite!

Saturday, May 10
10:00 AM – 4:00 PM
Alden Lane Nursery
981 Alden Lane
Livermore CA
Come stroll through the roses and indulge in a refreshing cup of Blooming Jasmine Fairy green tea, Ginseng/Mint Rooibos herbal tea, iced Kiwi/Pear white tea and many more premium whole leaf teas.  Click here for more information.
---
37th Annual ADAS Primavera Art & Wine Stroll

Saturday-Sunday, May 17-18
10:00 AM – 5:00 PM
Blackhawk Plaza
Danville, CA
Painting, photography, and sculpture by local artists.
Wine tasting by local California wineries from 1-4pm.
Proceeds benefit San Ramon Valley Schools art programs.
---
Disney's Beauty and the Beast, Jr.

Friday, May 23
Saturday, May 24
Sunday, May 25
DV Performing Arts Ctr
10550 Albion Rd
San Ramon, CA
"Be our guest" and step into the enchanted world of Disney's Beauty and the Beast , performed by teens of Bay Area Children's Theatre's Youth Education Program. Featuring songs from the Academy Award-winning animated feature, this musical dishes out plenty of entertainment.
---
Art and Wind Festival

Sunday, May 25
10:00 AM – 5:00 PM
Central Park
12501 Alcosta Blvd
San Ramon, CA
Don't miss the BEST festival in the East Bay! The Art and Wind Festival blows into town Memorial Day weekend with arts and crafts booths, entertainment on 4 stages, large kid's zone, professional kite flying demonstration and more.
---
Relay for Life of San Ramon

Saturday, May 31
10:00 AM
Cal High
9870 Broadmoor Drive
San Ramon, CA
Organized, overnight community fundraising walk
Teams of people camp out around a track
Members of each team take turns walking around the track. There will be food, games and activities to provide entertainment and build camaraderie. This is a Family-friendly environment for the entire community.  Because it's a team event, individual participants are not required to be there the entire time. But it's so much fun, you'll find it hard to leave!
www.RelayForLife.org/SanRamonCA
---
Wonka Kids!

Friday, May 30
Saturday, May 31
11:00 AM
1:00 PM
4:00 PM
7:00 PM
Sunday, June 1
DV Performing Arts Ctr
10550 Albion Rd
San Ramon, CA
Roald Dahl's timeless story of the world-famous candy man and his quest to find an heir comes to life in this special musical stage adaptation performed by the 5-11 year old students.
---
ValleyCare 30th Annual Golf Tournament

Friday, June 6
9:00 AM
The Course at Wente Vineyards
5040 Arroyo Rd.
Livermore, CA
The Course at Wente Vineyards is a destination championship golf course that is one of the most beautiful and challenging in the Northern California wine country. Located 45 minutes east of San Francisco, the course's 18 championship holes play through the vineyards, rolling hills and natural grasslands of the scenic Livermore Valley at Wente Vineyards. The Course at Wente Vineyards is host of the Wine Country Championship, the fifth stop on the PGA's Nationwide Tour. Dinner and a silent auction follow play at the beautiful Wente Event Center adjacent to the tasting room. Funds raised benefit the ValleyCare Health System Emergency Department.
For more information and to register online, click here!